Pecans are as natural to Texas as sunshine. And here at Pecan Grove Plantation we take special pride in growing the most plump and delicious pecans under that Texas sun!

Our 10,000-tree orchard enjoys the nourishing climate and deep, loamy soil in the wide, green valley of the Texas Colorado River - where Bastrop's "Lost Pine Forest" tips the air with freshness.

But just as important as the sunshine, and right soil, is our constant care and management that coaxes our orchard to year-after-year of excellence.

We don't simply grow pecans, we hand-pamper every crop to be the very best you can buy. At Pecan Grove Plantation it's a day-in-day-out labor of love - an 80 year tradition of quality!

People say we grow the best pecans in Texas. But they can't seem to agree on which of our pecans are the best, our Extra-Fancy In-the-Shell, our Fancy Halves, or our Fancy Pecan Pieces. Why not try 'em all and decide for yourself! This years crop of premium pecans will be available starting November 1st.

Order one or more of the gift packages and share with family and friends!

Prices DO NOT INCLUDE SHIPPING. Exact Shipping Costs will be calculated when you order.

Just give us a call at 512-237-2844 or 1-800-311-1523. We'll be glad to help you!





Discover, and Personal Checks also Accepted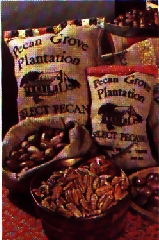 For Crackin' and Snackin'
We offer our fine Papershell Pecans in old-fasioned burlap & gingham bags, chock-full in three popular sizes.

Just right for the spirit of giving.
And buy one for yourself too!
Gift No.112 - 2lb. sack - $15.00
Gift No.113 - 5lb. sack - $30.00
Gift No.114 -10lb. sack - $55.00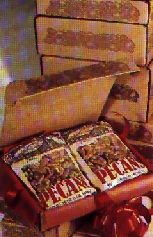 Gift-Packed Extra Fancy Pecan Halves
Our meaty Pecan Halves add a tasty touch to your gift giving.

They're just right for baking, roasting, or munching, when-ever you please.


Gift No.212 - (2) 1lb. packages - $32.00
Gift No.214 - (4) 1lb. packages - $60.00
Gift No.216 - (6) 1lb. packages - $90.00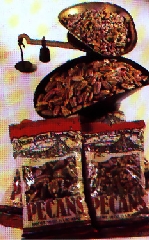 Flavor-Rich Pecan Pieces
These Fancy Pecan Pieces measure up from the same top-quality crop as our Fancy Halves.

They stay freezer-fresh & kitchen-ready to enrich and delight you favorite recipes..


Gift No.242 - (2) 1lb. packages - $28.00
Gift No.244 - (4) 1lb. packages - $52.00
Gift No.248 - Half 'n' Half -
(1) Halves/(1) Pieces -1lb. each- $30.00